Introduction
Gary Renshaw provides an insight into the story behind Australia's only manufacturer of model ships, as well as a successful international trader, and foreshadows new future kits.
Many readers will know Modellers Shipyard was established by Brian & Joan Forrester from Nowra in the early 1980s. They provided a niche service to model ship builders across Australia offering kits from the main Italian kit makers as well as plans, parts & fittings and timbers. They also manufactured their own kit the Schooner for Port Jackson which at the time was the only Australian designed and manufactured wooden model ship kit. Their business model was based on receiving orders by mail and phone and posting the orders out which was appropriate for the time.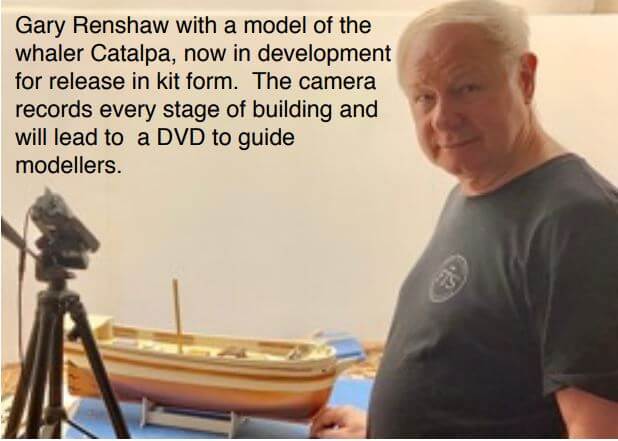 We purchased the business and started operation in October 2005. From day one we had an on-line ecommerce website. Our website has gone through a number of iterations and will continue to evolve and develop according to customer suggestions and market needs. 
We remain a family-based business – the Crew consisting of Brogan & Elyce, Declan & Eden and Elizabeth and myself. Brogan & Elyce who now run a Digital Marketing Agency have responsibility for our SEO, online advertising and optimising our web presence along with editing and publishing our monthly newsletter. Declan & Eden are responsible for our social media presence and engaging that audience. I have responsibility for the design and development of the new kits we manufacture taking each project from concept to a kit in a box. Elizabeth provides the glue that holds us all together during busy hectic times – her calming tones can only be obeyed – Elizabeth is acknowledged by us all as the "highest authority in the land". 
Since 2005 we have expanded the range of kit-makers we deal with – we now offer kits from Occre (Spain), Dusek ( Czech Republic), Mamoli (Italy), Krick (Germany), Turk Models (Turkey), Soclaine (France) and Nordic Models (Norway). We are also currently in negotiations with another kit-maker and plan to be offering their kits later this year. We continue to offer kits from Amati, Victory Models, Corel and Mantua – all from Italy.
We emphasise to our customers that we only deal with these companies as we consider they offer superior quality products and service to us and in turn our customers. Since 2005 we have expanded the number of kits we have designed and make ourselves – these kits now number 20 – and this number will increase over the coming years. We have focussed on producing kits that have significance to Australian maritime history – and as an island continent we have a very rich maritime history giving us a plethora of ships from which to choose.
Kits on our planning horizon include the New Bedford Whaler Catalpa, CSS Shenandoah, HM Brig Lady Nelson, Shackleton's Endurance, Flinders' Investigator, Macquarie Lighthouse, PS Brindabella, Lucinda – Queensland Government Paddle Steam Yacht 1884, HMS Guardian, Roebuck of William Dampier fame, just to name a few.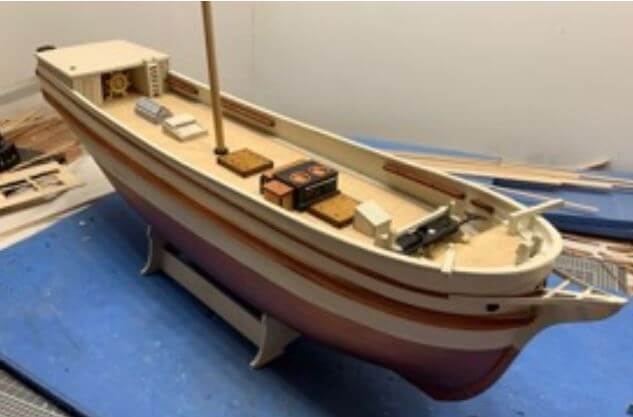 Even as a small business we are nimble and at the forefront of innovation in the model ship industry demonstrated by the range of highly comprehensive instructional DVDs we offer to support, guide and engage those new to the craft of model ship building – globally there is no other kit maker that offers these types of materials.
Our move into offering instructional DVDs came about from a collaboration with Leon Griffiths. Leon is an outstanding modeller – I am always in awe of his expertise. Leon scratch-built the early range of our kits and videoed himself while building: as well as learning new modelling skills while watching and editing the videos, I also learnt many new swear words – all of which had to be edited out. For our more recent models, I have taken on the role of building the prototype and videoing at the same time – this is time-consuming and at times frustrating as when a difficult part has been finally been put in place our dogs invariably start barking in the middle of videoing. Scratch-building the first prototype of one of our new designs can take two to three times longer than it would to build the kit version of the kit – making adjustments or corrections to the Autocad drawings as the build progresses.
The process of taking a model ship from concept to a kit in a box is a surprisingly time-consuming and expensive project – there are times when I make two or three prototypes before I'm happy. The whole process can take a few years. Currently I have two new kits being built.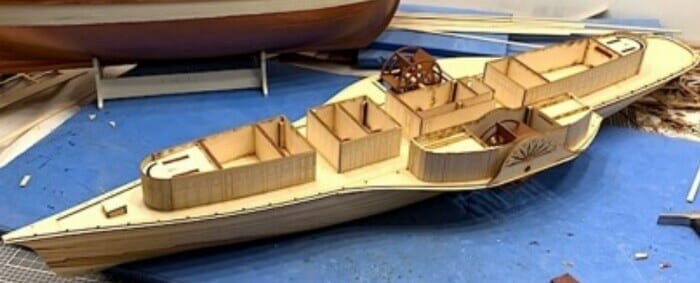 A further, and what I consider to be our most important innovation came about through a collaboration with John Staib – John has been a long time customer of ours – he's a masterful modeller and he is also highly skilled in Autocad.
Fairing the bulkheads of a model is one of the most important steps in building your model – the age old process was to glue the bulkheads into the relevant slot in the keel, glue the deck in place to help keep the bulkheads square to the keel, allow at least 24 hours for the glue to set and then use a sanding block and/or file to shape the bulkheads always checking for a smooth transition across the bulkheads with one of the first layer planks – it was time-consuming task. There was always the chance that too much timber was taken-off a particular bulkhead or bulkheads – there was always the chance the bulkheads would end up not being symmetrical. 
John has used Autocad to design many model ships from the line plans. He developed a technique where the fairing lines are marked of the bulkhead frames of a model – so during the laser-cutting process, these lines are marked as a score line: take a close look at the bulkheads in the photo below – this from the Catalpa model – you will see score lines on the fore and aft bulkheads. You will also see the bulkheads are all numbered with a location arrow on both the keel and the bulkheads – when the bulkhead is fitted correctly in place the keel arrow and the bulkhead arrow will align.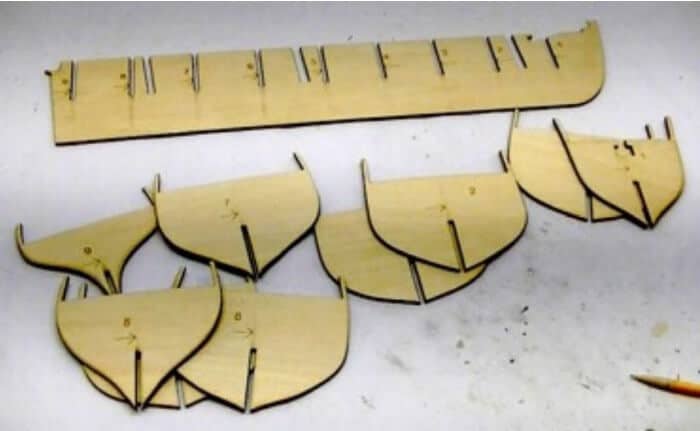 Coming back to the score lines on the bulkheads – the process will see these bulkheads faired before gluing them in place on the keel. A file, sanding block or grinder is used to shape from the score line side back to the rear side cut line – this is a very quick process and ensures that  each side of the bulkhead is symmetrical. Once the relevant bulkheads have been faired they are glued in place onto the keel and the deck is then glued in place. Once the glue is dry a quick check is done with a plank running it across the bulkheads to ensure a smooth run. 
The whole process is quicker and a whole lot more accurate that the age-old method. The bow blocks have also been designed and shaped this way.
This innovation in the fairing of bulkheads is the most significant development in wooden model ship building since laser cutting first started in the late 1970s. All our new kits will use this methodology and our early kits will progressively be re-engineered to meet our new standard.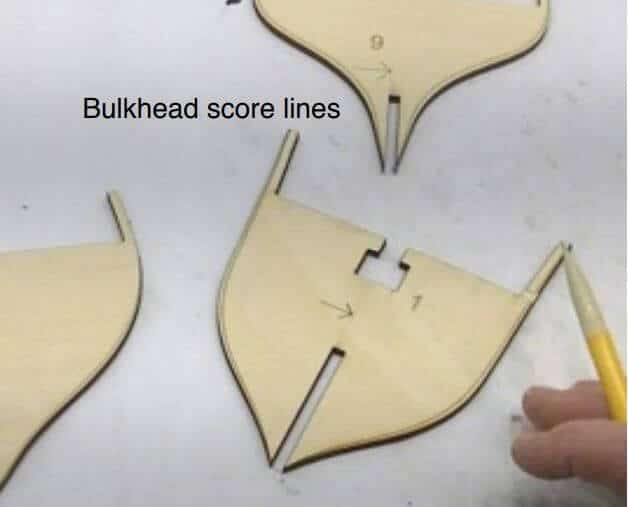 John Staib has combined his highly developed conceptual skills with his masterful modelling skills to produce a unique and innovative approach to one of the more challenging aspects of building a wooden model ship. It has been my great pleasure to work with and learn from John's expertise.
My professional background was as an electrical engineer and then I moved into vocational education and training – working in TAFE NSW for over 35 years – starting as a teacher and rising to the dizzy heights of a College Director before retiring early. My passion has always been on making learning interesting, exciting and rewarding. So a focus of mine from day one in this business has been to make the pathway for a beginner to the craft of modelling as easy and interesting as possible. 
I recall when I first started out in model ship building I would buy books that only confused me more – terms were used such as garboard plank – for the life of me I could not find anywhere in the book that told me what that was. Drawings and photos in the books were always a page or two away from the text – it was very frustrating.
Our development of instructional DVDs has been part of the focus to making the pathway into modelling as easy as possible. Another part has been the building instructions for the kits we manufacture – they are highly detailed with colour photos showing each and every step in the build of the model. Also any text has a photo adjacent to easily link the two.
Our aim with these building instructions is to show the modeller a range of building techniques tha